google-site-verification: googled8cb12c78271c415.html H_abxalAdC9Cg0xe3NtXHQ6qbrc
MKT1x - Digital Branding and Engagement
Digital Marketing and Customer Engagement
Case studies related to engagement in earned media, Owned media, and Paid media.
Activity 4
Uber Earned media case study
Its Earned Media Thats Driving Brand Awareness for Uber on YouTube earned media
The sharing economy has arrived in a very big way, and right now, Uber is the most visible name in the car sharing market. But to what degree is Uber in charge of its own message on YouTube?


Well, it turns out that like many brands on YouTube and social media, Uber the company is one of many voices in the conversation. The company's own YouTube channel has a plurality of the overall views about its brand, but not a majority.


Uber and YouTube: Earned, Owned and Paid Media


We did a study using our Octoly YouTube brand management system to understand Uber's footprint on the platform. We learned that Uber has 92,000 organic views on its channel and 222,000 paid views. But the brand's earned views, from videos on channels not belonging to that company that mention the Uber brand, total 2.5 million views, roughly 8X the organic and paid views combined.


Its Earned Media Thats Driving Brand Awareness for Uber on YouTube uber earned paid
owned vERY high
Just 12.5% of Uber's YouTube views come from its own channel, with a majority of those views coming from paid promotion. The vast majority of views about the brand, 87.5%, comes from videos created by the YouTube community.


Uber has many influencers taking about it on YouTube.


In the video "How to become an Uber driver Part 2 of 2" by "FindYourTruth888," aka Sage,


he uses his smartphone camera while driving to tell us what it's like to work for the company.


He is also evangelizing new drivers to sign up through him to drive for Uber, because he will get a $250 referral fee. The video has 3,000 views.


YouTube Influencers Are Not Always Brand Fans


Anyone who posts to YouTube and gets people to watch their video can become an instant influencer on YouTube.


In just the last week there were 29 user-generated videos about Uber posted to YouTube, with a total of 2,300 total views on them so far. If "discovered" by the community, any one could suddenly gain a lot of views.
But influencers aren't always fans, and there are negative stories about brands on YouTube as well.


Perhaps this isn't surprising, given that YouTube is a social media platform open to all, including those spreading news. And bad news travels fast.


Major companies like Southwest Airlines are addressing bad social media "press" by creating social media rapid-response command centers, and they would be well advised to follow a YouTube listening and response strategy as well.


Negative stories about new types of business that are "disrupting" the old models can be big on social media and YouTube. A recent video from TYT (The Young Turks), titled "Here's The Uber Story You Knew Was Coming," with 93,000 views, tells of an Uber driver accused of kidnapping a drunk woman and taking her to a hotel room. Perhaps this could have also happened with a taxi driver or someone in another type of profession, but it has gotten attention in the media because it's considered an "Uber" story instead of a regular crime story.






Reputation Management




The Power of Pre-Roll for Reputation Management
Note that this TYT video is "monetized," meaning it has a spot for a pre-roll ad at the beginning.


If they wanted to, Uber could very well chose to make its own YouTube video responding to this problem, and tell how they are addressing it.


Then they could buy the pre-roll on this video for their own video ad that says something like "Hi this is Uber: We're very sorry about what happened in the video you're about to watch. That's why we've decided to tell you what we're doing to try to prevent this in the future."


So, overall, earned media can be both positive and negative for brands on YouTube, but it's helpful to be as informed as possible on both fronts to decide how to respond to negative stories, and to promote and engage with positive ones.


In general, Uber has a very good earned media footprint on YouTube.
Activity 3
Case study of elections in United Kingdom 2015
We looked at the websites of the major parties in the UK general election and analyses their backlinks and social signals using the cognitiveSEO tool.
Conservative Party

Labour Party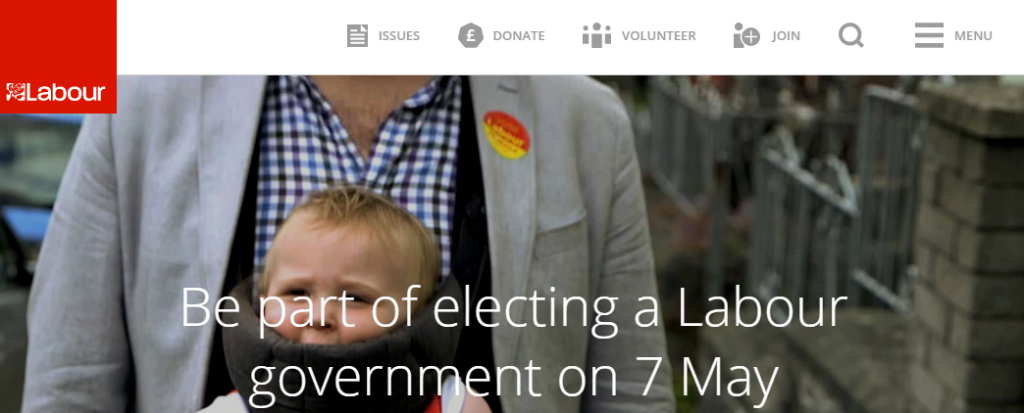 Liberal Democratic Party


United Kingdom Independence Party


Green Party


Scottish National Party


Plaid Cymru – Party of Wales


Ranked by number of backlinks:
Some interesting points:
Labour Party have a lower number of backlinks than I would have expected for a party their size.
UKIP have a huge amount of links, even beating the Labour Party. This may highlight the media fascination with UKIP rather than their appeal to the voters, as they only have 2 MPs whom only exist as they defected from the Conservative Party.
The Green Party also have a lower amount of backlinks than I expected as their media appeal is quite high. Although it has been said by others that their online marketing and ability to put together an effective campaign may have influenced this.
The Party of Wales did not bring back any data. Not sure why this is the case, they may be blocking bots or they may have such a small data set that they haven't registered on the dial. I don't know.
Social Signals
Conservative Party

Labour Party

Liberal Democratic Party

United Kingdom Independence Party

Scottish National Party

Green Party

Plaid Cymru
Some interesting points
I had to recheck the data for the Conservative Facebook result a few times and although the official Facebook page for the Conservative Party has 363,736, it looks like the homepage of the Conservative Party has only been liked on Facebook, 400 times. We can hypothesize why this would be the case, but that is all it would be. It may be that the website design has simply not enabled people to give it a quick thumbs up, rather the Facebook icon displayed sends the web reader to the Facebook page of the party, which then can be liked. Is this data significant on its own, probably not and may be more about the way the website UX has been arranged. I will leave it open to interpretation about why the Facebook number is so odd.
Ukip also have an odd number, over 20k, they have a like button on their front page, but again it's to like the Facebook page, rather than like the home page of the website.
Liberal Democrats win the Google+ award, I don't know whether that's such a good thing due to the perception that Google+ has?
The Green party have a very poor showing on social media, perhaps this is because they are busy outside looking at the trees. The Tories come second to last in the Tweet off, with only the Greens coming behind them. Does this all mean social media likes to lean to the left.
Does anyone in the Green Party use smartphones or computers?
Let's look at link velocity, which is the new links/referring domains since the existence of the party's website and one chart from the last 12 months. It can help give a snapshot of what is happening now as opposed to what was historically happening.
Link Velocity
Conservative Party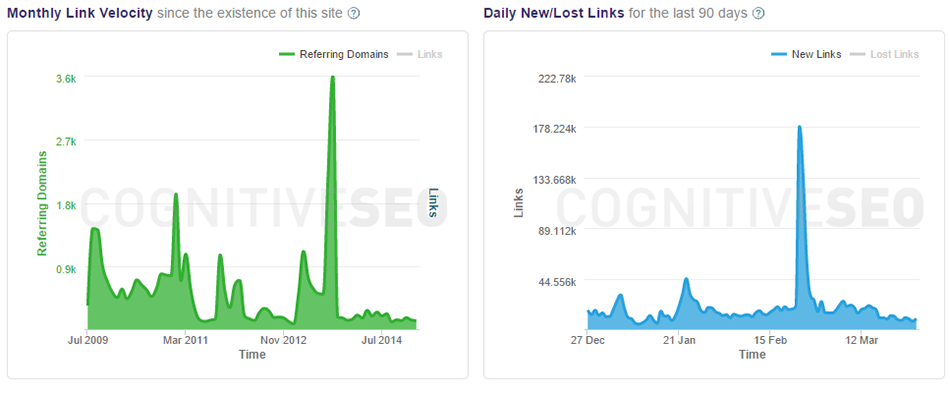 Labour Party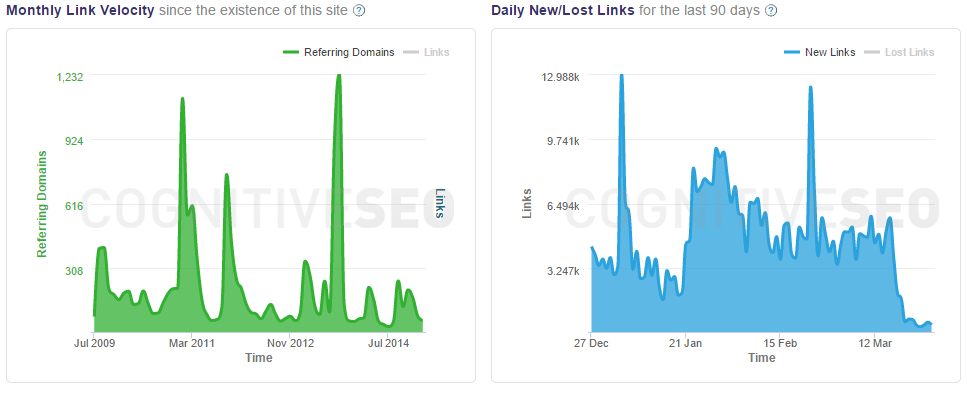 Liberal Democrat Party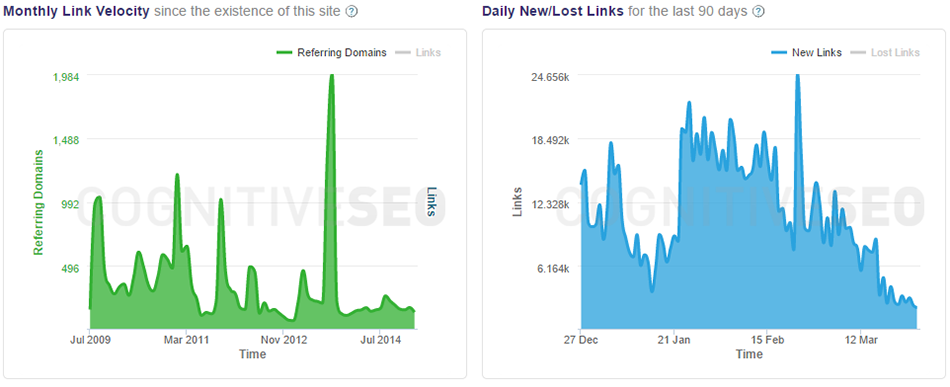 United Kingdom Independence Party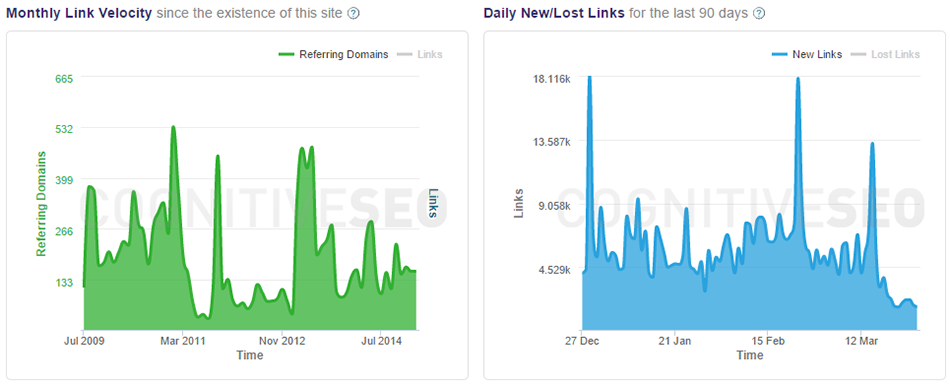 Green Party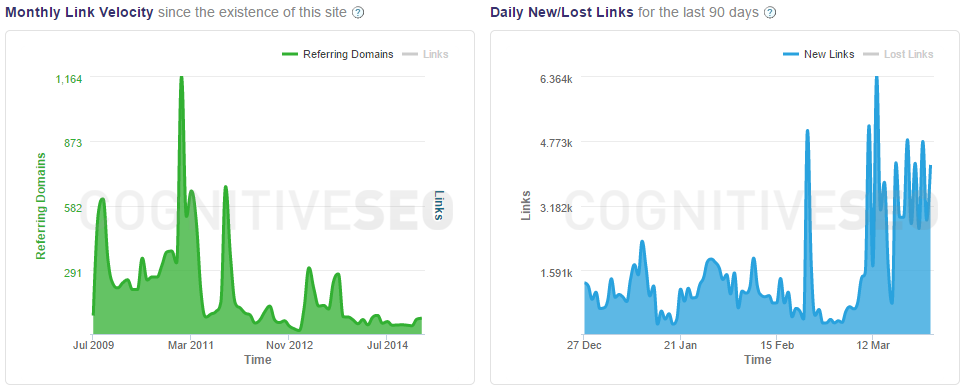 SNP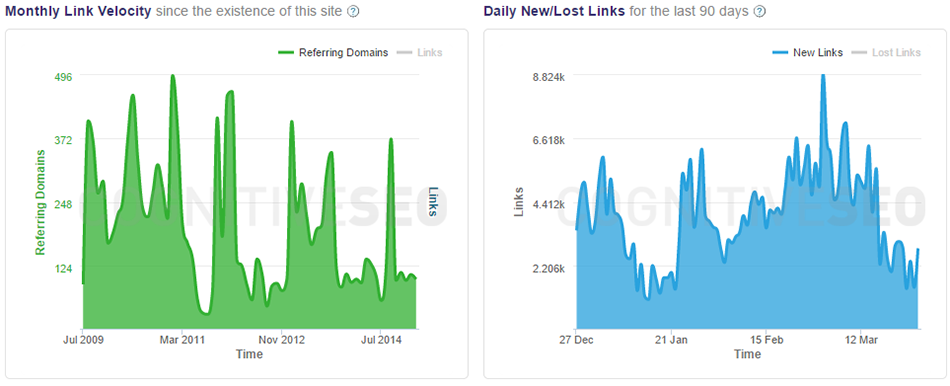 Things to notice:
The Conservatives are generally stable with a few spikes. Tricky to analyse why the spikes are happening, February saw a controversial Black and White ball where people could pay to get access to Tory MPs, but it is not definitive and would take a lot more analysis to pin down.
Interesting to note that the last 30 days has seen a decline of new links for Conservatives.
Labour has had a good increase over the past 90 days, except for the past 15 days where new links have dropped off considerably. Lib Dems also tailing off in the same fashion.
The Green Party conversely have had a boost the past 15 days. This may be due to them snagging a place on the debate on April 2nd, and if will be interesting to revisit these numbers after the debate.
The SNP link velocity has had a similar range over the past 6 years, with quite extreme peaks and toughs, presumably due to news about the separation of Scotland from the rest of the UK.
Very important to point out that this data is very open to interpretation. Which makes it more interesting to pour over and analyse.
Things of note about the backlinks:
As the list of backlinks are massive. What is interesting are the top links listed came from some very "telling" websites. I pick out a few interesting top links.
Conservative Party

Bloomberg.com, the business publisher is the number one backlink for the Tory Party.
Labour Party

The BBC is often accused of having a left wing bias, and yet here is, 2nd in the list of backlinks to the Labour Party
.
Liberal Democratic Party

The perception of a lot of people, sees the Lib Dems and a bunch of teachers and social workers, and yet here we see in at number 2, the Guardian, which is pretty much the bible for teachers and social workers. So far the ideology of the party is being reflected in the most powerful of the top links.
United Kingdom Independence Party

The second most powerful link to UKIP is from tabacco.org I'm not even share what I think of this one, just going to let it hang there and let you interpret the data.
Scottish National Party

Top 5th link for the SNP, not Shortbread magazine, but Greenpeace. Again, make of that what you will. But the SNP have said that voters in England should vote for the Green Party.
Green Party

Huffpo in the UK has a left wing bias, and likes to position itself with the activist crowd. Pretty much anti UKIP, so you wouldn't be surprised to find that the 2nd link to the Greens come from the Huffington Post.
Conclusions
So does this tell us who to bet for in the upcoming UK General Election on May the 7th, 2015?
I'm not sure it adds anything to that conversation, but it has certainly thrown up some very interesting data. Such as how much chatter has been created around UKIP in the form of links and social signals. I was one of those who was intrigued why UKIP was getting so much more media attention than the Greens, the data may indicate why this was the case.
The anomaly over the Tory Party Facebook page may be an important lesson of how to structure your web page in relation to Facebook likes.
We could, I am sure create another analysis on each parties Facebook page.
Very surprised at the poor showing of the Green Party on social media. As those one social media seem to be sympathetic to the environment and they do post a lot of cat and dog pictures, even though the average dog has a larger carbon footprint than a Range Rover, but let's not get into that just now.
UKIP do create a lot of heat. Do they have a savvy, slick media operation? Is there website geared up to suck in links and social signals, it's definitely worth analysing more.
Hope you enjoyed the digging into the data and if you have a different take of any of what I have said, please make a comment.
Activity 2
About EMC.
EMC has over 70,000 employees and is the world's largest provider of data storage systems by market share, competing against NetApp, IBM, Hewlett-Packard, and Hitachi Data Systems (arranged in descending order of external data storage marketshare).
About the Campaign.
EMC was looking for a solution to bridge the gap between channel partners and digital-only buyers. The answer? A new digital shopping experience for IT professionals that bridged the gap, selling products directly as well as generating leads for EMC partners.
Results: Page views increased 55% month-over-month, average bounce rate: 49%, leads increased by 100%, over $12 million in booked revenue.
#contentmarketing
Activity 1
I would like to submit the Swachh Bharat Abhiyan (Clean India Movement) towrds activity 1 of the MKT 1 Digital Branding and engagement. The project is considered the largest in the world in terms of geographic, demographic, and numbers.
The enormity of the project is evident from the fact that three million volunteers including politicians,Film personalities,Sports personalities,business icons are involved in it. If you add up the total brand equity of the individuals participating, the total net brand equity of the project is so huge that I don't think any project or product can come near it.
The digital visibility of the project through electronic media and the web is so huge that it has reached most of the 1.30 billion people in 600 + districts.
The impact I agree with you is not as dramatic as expected. the project is much more than switching of brands. it is a change of attitude and that takes time and more time in a country like India with a poor literacy rate.
This project should be evaluated more for the effort than results.
View more about this project here